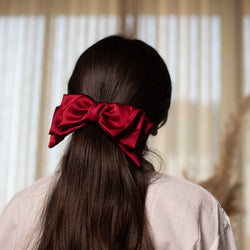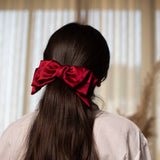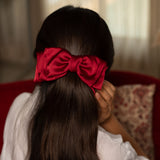 Cats&Bows
Perrine - Reddish Maroon
Product Description :
The Satin Bow features wispy layers of fine satin, designed to magically retain its billowing shape. Sitting on an automatic French barrette closure, a look this fanciful has never been so effortless.
Materials :
These Parisian Bows are handmade in India with Charmeuse Satin , & a steel French/Paris barrette clips for closure. 
Care:
We recommend treating this bow as you would a piece of jewelry, and storing in the dust bag when not in use. Avoid contact with water, perfume, and other chemicals, including hairspray, which should be used before placement in the hair.