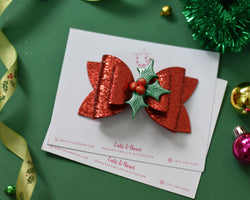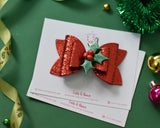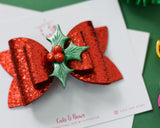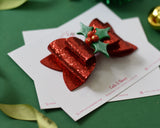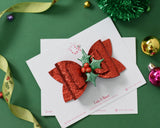 PRODUCT DESCRIPTION

A BEAUTIFUL PERFECT RED CHRISTMAS BOW .
HANDCRAFTED FROM THE FINEST GLITTER FABRICS.
THE CENTER CLAY BOW CHARM IS HANDCRAFTED WITH LOVE WITH AN INDIAN CLAY ARTIST.
SIZING APPROX 4" INCH.
AVAILABLE IN FLAT ALLIGATOR HAIR CLIP OR HEADBAND. 
SINCE ALL OUR PRODUCTS ARE HAND CRAFTED, EACH BOW MAY LOOK SLIGHTLY DIFFERENT, ACTUAL COLOR OF THE PRODUCTS MAY VERY SLIGHTLY VARY, YET WE HAVE TRIED TO GET TO THE CLOSEST TO THE ACTUAL PRODUCT.