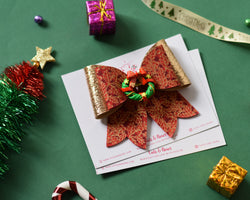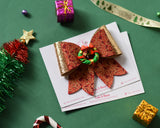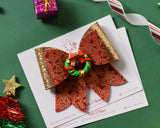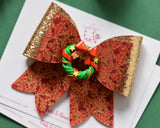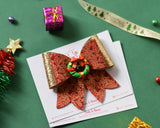 Cats&Bows
Wreath French Bow-2
PRODUCT DESCRIPTION
HANDCRAFTED BY OUR VERY OWN IN-HOUSE ARTISANS.
MADE WITH THE FINEST GLITTER FABRIC A PERFECT CHRISTMAS WREATH BOW.
USED BEAUTIFULLY HANDPICKED INTERNATIONAL FABRICS.

 

ATTACHED ON A RIGHT SIDED ALLIGATOR HAIR CLIP.

 

 APPROX 4" IN SIZE.

~PLEASE NOTE~ 
SINCE ALL OUR PRODUCTS ARE HAND CRAFTED, EACH BOW MAY LOOK SLIGHTLY DIFFERENT, ACTUAL COLOR OF THE PRODUCTS MAY VERY SLIGHTLY VARY, YET WE HAVE TRIED TO GET TO THE CLOSEST TO THE ACTUAL PRODUCT.